Summary
Slough Youth Parliament (SYP) with the support of the Young People's Service hosted the first Slough Youth Awards in November 2016, and again in November 2017 and 2018. The awards aim to raise the profile of young people in a positive way by celebrating their achievements in an annual showcase.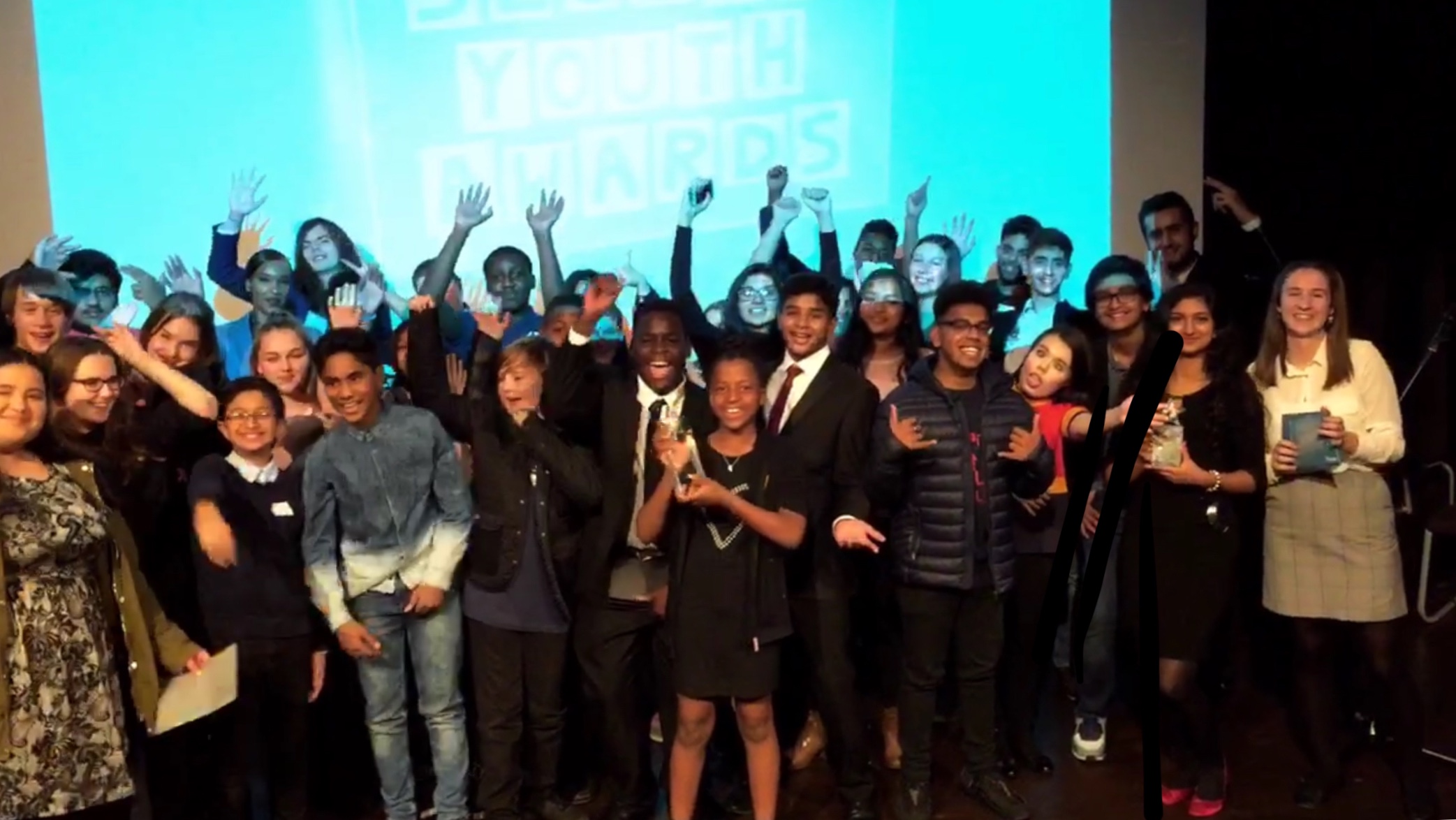 Youth Awards 2018
2018's Youth Awards received more than 70 nominations for young people and groups aged 11-19 (up to 25 with learning difficulties or disabilities and for care leavers) who live in the borough. The ceremony returned to The Curve and was hosted by SYP members Navin Vithana, 15, from Langley Grammar School and Betty Axtell, 16, from The Westgate School.
Awards were presented across six categories: young artist, young environmentalist, young inspiration, young entrepreneur, young sportsperson and Slough Council for Voluntary Service (SCVS) young volunteer of the year. Additional awards were included to mark the best of local secondary schools' participation in the National Citizen Service (NCS), as well as the Make Your Mark consultation.
The sold out crowd was treated to performances from spoken word group Empoword and Western House Academy's reggae band, The Mighty Melody Invaders. Students from Ditton Park Academy also showcased a film designed to raise awareness of child sexual exploitation.
"It's wonderful to see so many engaged young people who are working to improve their community. They are an inspiration to us all and I'm so pleased we have this awards ceremony to recognise their efforts."

 

- Councillor Shabnum Sadiq, Cabinet Member for Children and Education
The Slough Youth Awards are returning to The Curve on Friday 8 November 2019 to celebrate and recognise the massive contributions young people make to the Slough community. We hope you will be inspired to nominate a young person or group of young people for an Award ensuring they receive the wider recognition that their achievements deserve.  You can make a nomination or find out more about the criteria for 2019's awards at www.slough.gov.uk/SYA .
Entry is free and the deadline for nominations is Friday 20 September at 5pm.
For general enquiries or sponsorship opportunities please contact Young People's Service on 01753 875510 or email sloughforyouth@slough.gov.uk
Press Stories
15 November 2018 | Slough Youth Awards showcases inspirational work of Slough's youngsters
https://www.sloughexpress.co.uk/gallery/slough/138184/slough-youth-awards-showcases-inspirational-work-of-slough-s-youngsters.html
07 November 2017 | 'Inspirational achievements' recognised at Slough Youth Awards
www.sloughexpress.co.uk/gallery/slough/123499/inspirational-achievements-recognised-at-slough-youth-awards.html?refresh_ce    
10 November 2017 | Slough Youth Awards: Hundreds celebrate at The Curve
www.sloughobserver.co.uk/news/15654877.Slough_Youth_Awards__All_the_results_and_pictures_here/#comments-anchor