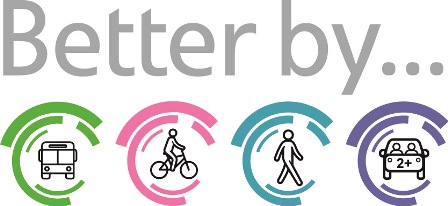 Transport for Slough has successfully received funding from the Department for Transport's Access Fund 2. The funding is a continuation on the three year access fund programme.
Access Fund 2 will support the Better by… campaign to get Slough workplaces, schools, job seekers and the wider Slough community using smarter modes.
For more information, sign up to the Better by... newsletter.
---
Support available for Slough schools
The following free initiatives and support is available to your school through the Better by... programme. 
Bikeability training
Cycle training to increase confidence and skills to pupils. A range of Bikeability add on modules are also available. Find out more about bikeability .
Cycle/scooter parking
Schools are able to apply for match funded support to introduce cycle parking into their site.
Cycle grants
Opportunities for schools to bid for up to £2,000 for pool bikes, storage solutions, instructor training for teachers, events and cycle clubs.
Walking initiatives
Better By will be working in partnership with Active Movement to deliver the 'Active School Travel' programme to primary schools across Slough. This 3 month programme aims to encourage children and teachers to use the specially created Active Movement walk as part of daily routine. Rewards for participating in the programme will be offered as an incentive.
Anti Idling Campaigns
Slough's Better By ... team will be working in collaboration with Environmental Quality Team to deliver this campaign to schools across the Slough borough. This campaign aims to reduce the amount of pollution around the school site from idling vehicles.
JTA (Junior Travel Ambassador scheme)
This scheme encourages peer-to-peer engagement and will provide schools with all the resources and guidance they need to promote safer, active and independent travel within the school community
Road safety assemblies
Working with our dedicated road safety partner, we are able to offer some road safety assemblies or training. Providing travel information to staff, pupils, parents and visitors enables people travelling to your school to look at all travel options. Displaying these options on your school noticeboard or website may encourage individuals to choose sustainable options.
Sustainable travel promotion and awareness raising campaigns
Schools can take part in some of the nationwide or local Slough campaigns. We will promote sustainable travel by running competitions, assemblies, via newsletters and press releases.
Bespoke travel map
Bespoke maps can be created for Slough schools highlighting cycling and walking routes.
Train and bus travel
Information about public transport timetables can be downloaded and displayed on your noticeboard and can be used by pupils, staff and visitors.
Bus travel - the bus map and bus station guide on this page is updated regularly.
Health Benefits Of Active Travel
Put together a lesson or assembly adapted to the needs and level of your class to teach them about the health benefits of active travel
Identifying Travel And Transport Issues
Identify and record your school's travel and transport issues to help to track progress and areas for improvement
Inviting Local Dignitaries To Travel Events
Invite local dignitaries to your school to celebrate special events and raise the profile of your STARS work in the local community.
Parking Poster Competition
Launch a parking poster competition to improve parking behaviour and road safety outside your school or nursery.
School Travel Noticeboard
A travel notice board in your school or nursery, or on your website, helps keep pupils, staff, parents/carers and visitors up to date with all your travel-related news.
---
Modeshift stars workshops
Slough Borough Council's Better by team aim to help change the way people choose to travel to school, making walking, cycling and using public transport a real choice. Our vision for schools and young people is to promote active, safer and responsible travel that will remain with young people through adult life. We would like your school, to join thousands of schools across the UK to promote sustainable travel and road safety through Modeshift STARS.
What is Modeshift STARS
Slough is investing in creative and innovative ways to promote sustainable travel to the borough's schools. The National Modeshift Stars scheme will reward schools that encourage children, staff and parents to walk and cycle to school. Modeshift aims to share best practice in sustainable travel delivery.
The scheme awards schools bronze, silver or gold stars according to how effective they are at persuading pupils to choose greener and healthier ways of getting to and from school. Schools will have access to a great number of exciting initiatives to promote sustainable travel and regular support and guidance from the Borough's sustainable Travel Officer.
Benefits for school communities
Promote Healthier lifestyles – encouraging your school community to get active through more walking and cycling, thereby creating healthier and more productive lifestyles
Safer environment – helping you to identify and address travel and transport issues to enable safer journeys for the whole school community
Cleaner Air – reducing the number of vehicles and congestion around your school site to improve the quality of air
Delivers on Corporate Social Responsibility objectives – ensuring your school cares about the environment and your impact upon it
Save time and money – Modeshift STARS saves time when writing a Travel Plan therefore reducing the costs of creating the document
National Accreditation – achieve national accreditation for your Travel Plan and be nominated for National Awards
The workshops
This workshop introduces participants to Modeshift STARS online platform for schools which is a comprehensive travel planning tool. This tool allows schools to:
Create, develop and support your travel plan.
Assists your school in monitoring and evaluation
Recognises and rewards excellence for the promotion of sustainable and active travel.
The workshops will also provide guidance on the following:
Appoint a school travel plan co-ordinator
Set up an STP working group
Collect key information – surveys
Set targets for sustainable and active travel
Write an action plan
Deliver Travel initiatives
Review
Please contact Betterby@slough.gov.uk if you would like to book a place on one the Modeshift workshops. I
---
Modeshift STARS Activity Cards
Please see all activity cards uploaded below for the following: 
Balance Bike Training
Bike To School Competition
Bike Week
Bring Your Bike
Brake Kids Walk
Brighten Your Bag
Brighten Your Bag - Learning Objectives
Brisk Walk Challenge
Car Sharing
Cycling Lessons
Guidance For Walking Zone Activity
Park And Stride
Padlock Challenge Information
Road Safety Week
Step Counting Week
The Golden Lock
Walk To School Week
Walking Zones
Weekend Walkies