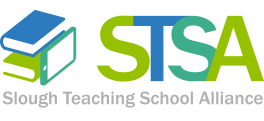 Slough Borough Council works closely with the Slough Teaching School Alliance and a brief insight into who the STSA are and what they do can be seen below.  For more detailed information on the STSA please go here http://www.sloughlearning.org.uk/
The Slough Teaching School Alliance comprises the designated teaching schools, strategic partner schools and other partner organisations:
Designated teaching schools

Strategic partner schools

Strategic partner organisations

Langley Grammar School
Lynch Hill Primary Academy
Upton Court Grammar School

 

Partner schools provide support to other schools either individually or through programmes and networks, supported by funding from the designated teaching schools.

 

Organisations other than schools which work closely with the teaching school alliance.

Designated by DfE through NCTL as a multiple teaching school alliance

 

Conduit of funding from DfE

Able to bid for grants on behalf of the Alliance

 

Potential conduit for school improvement funding

 

Initial Teacher Training coordination

 

Appropriate Body for NQT

Leadership of large-scale programmes/activities

 

Various roles which include

National Support Schools
National Leaders of Education (NLEs)* and Specialist Leaders of Education (SLEs)**
Leaders of teacher/middle leader networks
Centres of pedagogical excellence and expertise
Coordinators/leaders of training programmes
Leaders of particular initiatives

 

These include

Slough Borough Council
Higher Education Institutions for initial teacher training and research-based teacher development
Other organisations such as

CAS Network of Computing Excellence
National Centre for Excellence in Teaching Mathematics
Surrey Maths Hub
Local Science Learning Partnerships

 
*National leaders of education (NLEs) are strong school leaders, who have experience of effectively supporting schools in challenging circumstances. NLEs work alongside teaching schools and other system leaders to provide high quality support to those who need it most.
**SLEs focus on developing leadership capacity. While other roles focus specifically on developing classroom expertise, this role is about developing the capacity and capability of other leaders so that they have the skills to lead their own teams and improve practice in their own schools.
Slough Teaching School Alliance Activities
 The table below outlines what the Slough Teaching School Alliance does:
Initial Teacher training

Teach Slough Schools Direct programme

Support for assessment-only route

 

Appropriate Body service for NQT induction

NQT assessment process, mentor training

Quality assurance of induction process and assessments

Statutory returns to NCTL* on induction completion.

 

Ongoing teacher professional development

Access to nationally recognised ITP and OTP programmes

Themed network meetings for NQTs

Teacher development networks

Teach-meet programme (organised by strategic partner schools)

Conference-style training as appropriate to school needs, focusing on the development of pedagogy

Training and development programmes in Computing and Mathematics through NCETM and CAS links.

 

Leadership development

Access to franchised leadership development programmes e.g.

NPQML/NPQH and their successor programmes,

SSAT National Award for Middle Leadership (NAML)

Inspired to Lead.

Annual Slough-focused headteacher conference on relevant themes.

Targeted leadership development programmes.

               

School to school support

Maintenance of directory of local and regional system leaders and school expertise.

Liaison with Slough Borough Council to broker school-to-support.

Management of Slough's local School-to-School support fund.

Recruitment, designation and ongoing support for SLEs.

                
*National College for Teaching and Leadership