TeachSlough is committed to recruiting innovative and inspiring trainee teachers in both the primary and secondary sector for Slough schools. Working in partnership with the University of Reading, we offer a high-quality training provision, developing creative, reflective and passionate educational practitioners to enthuse our next generation.
Our partnership of schools is led by Upton Court Grammar School and comprises of a mixture of Grammar schools and Comprehensive schools, Academies and State schools, Primary, Infant, Junior and Secondary schools. 
We encourage a supportive community for our trainees and offer diverse and contrasting teaching and training experiences through school-to-school collaboration. Our school-based, highly supportive training programme, nurtures our trainees to flourish and excel within the teaching profession. Since 2013, we have successfully trained 104 trainees. To date (June 2017), we have achieved a 100% pass rate with 72% of our trainees passing with a grade 1 ('outstanding').
Our staff are our most valuable resource and have a proven track record in training and professional development. Following the training year, Slough's excellent practitioners continue to offer outstanding professional development opportunities, guiding their colleagues through a variety of leadership pathways. Our dedication to professional development makes Slough an attractive place to work with 75% choosing to stay in our partnership in their NQT year (in June 2017).
If you are a passionate about education and, as an educational practitioner or school, are dedicated to developing Slough's future teachers, contact TeachSlough at schooldirect@uptoncourtgrammar.org.uk to collaborate.
@TeachSlough: Awake. Create. Educate.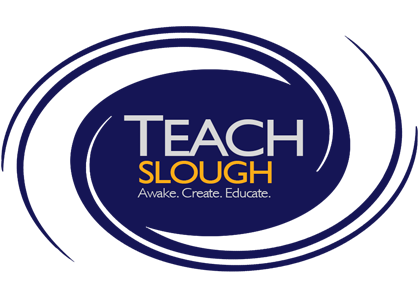 Follow us for regular updates: