This message has been brought to you by Gabrielle Koenig, Audience Development Co-ordinator Slough Libraries for the attention of all Secondary Schools.  
We have two brilliant opportunities for young people to develop their drama and performing arts skills.
Refugee Week Performing Arts Workshop Sat 23 June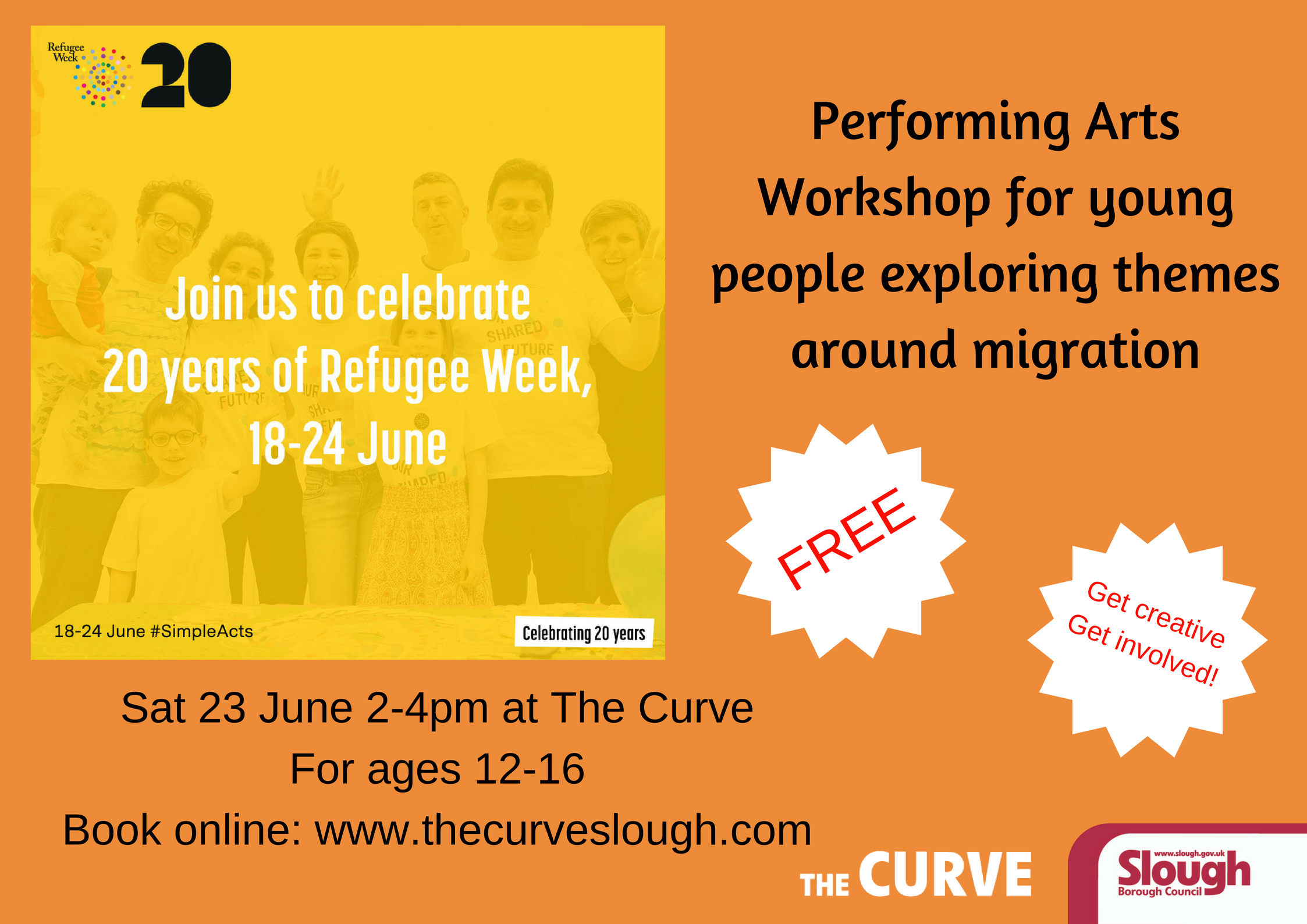 We are delighted to welcome Ameer Choudrie to lead a Performing Arts Workshop for Refugee week on Saturday 23 June 2-4pm aimed at young people aged 12-16 years old.
Ameer is a British actor who has worked on a range of projects including adverts, a music video with the Kaiser Chiefs as well as film and stage work. He recently performed with Rifco Associates The Srivastavs in the Rifco showcase 'Back to the Day-Timer'.
An experienced drama workshop and performing arts coach, he has been running a variety of acting workshops in both Primary and Secondary / Further Education for a number of years.  Ameer is also a Qualified Teacher with QTS and has worked in various schools and colleges across Berkshire.
The workshop will be looking at themes of migration generally as well as specifically being a refugee and will include elements of drama and movement. It will use as a starting point a poem called "What they took with them".  The workshop will end with a sharing for parents and family.
The workshop is available to book online on The Curve website and there are only 20 places available! Please do encourage your students to book!
The Stage is YOURS! The Greatest Show Summer School 23 – 27 July
Returning for its second year HA Productions are running an amazing summer school from 23-27 July for young people aged 7-14!
Come along and spend 5 days working with industry professionals developing your Performing Arts skills to West End and Broadway musicals, including the big hit film of the year, The Greatest Showman. The week then ends with a presentation of everything learned, to family and friends in the Curve's theatre The Venue. It costs £110, with a discount of £10 for group bookings.
This is the perfect opportunity to try something new or expand your learning, make friends and explore your hidden talents. HA Productions and its sister company DK Produktions are a local theatre company who put on the highly popular pantomime at The Curve for the last two years.
Booking will be available on The Curve shortly, please see the attached poster for further information.