The Slough Whole School Approach to Health and Wellbeing framework and tools have been produced to help schools develop a whole school approach to promoting the health and wellbeing of pupils and staff. It is based on the Public Health England Whole School Approach model which is promoted by the Department for Education. The framework addresses the following seven areas of school life: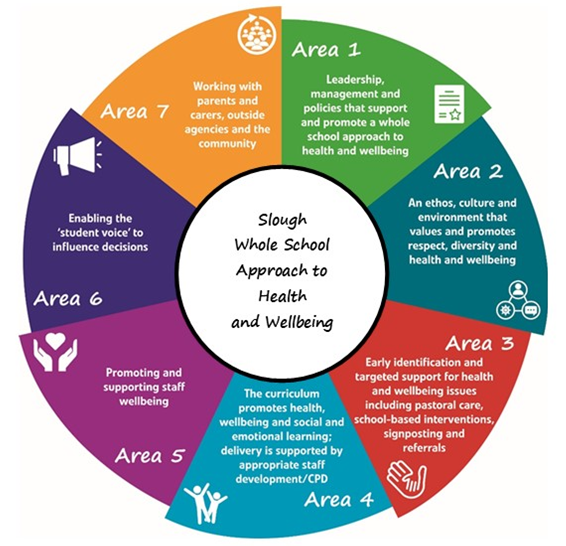 The framework also encompasses key Department for Education guidance around health and wellbeing including Relationships Education, Relationships and Sex Education (RSE) and Health Education 2020 and Mental Health and Behaviour in Schools (2018). It also makes links to Ofsted Schools Inspection Handbook (2021).
How to develop a Whole School Approach (WSA) to Health and Wellbeing
Identify a WSA Lead and/or Working Group within your school
Have an Introductory Workshop with your whole staff team to launch and begin the mapping process (1)
Map current good practice using the Slough mapping and development tool (or equivalent) (2)
Formulate a development plan based on the outcome of the mapping exercises (3) 
Implement the development plan and, if you wish, collate a portfolio of evidence as a record of achievements (4)
Tools, Checklists and Support
1. A one hour WSA Introductory Workshop is available for your WSA Lead or WSA Working Group to facilitate with your whole staff team (teaching and support staff).
The workshop will introduce the Whole School Approach and begin the process of mapping and recording all the good work you are already doing. You can find a copy of the Introductory Workshop at the bottom of this page.
2. A Slough Whole School Approach Mapping and Development Tool is provided, however, schools may prefer to use tools from other organisations such as the Charlie Waller Trust or the Anna Freud Centre. Copies of the Slough Tool can also be found at the bottom of this page.
3. A Whole School Approach Development Plan template is available below.
4. Details of resources and sources of support for your WSA work can be found on the School Health and Wellbeing Project resources webpage Here.
Schools who are part of the Mental Health Support Team initiative can also receive support with their WSA work from their Education Mental Health Practitioner.